"Yes, Change IS Possible!"
Aloha!  I'll be updating the website with new photos when I can — Please contact me for a consult, we can do a quick call or virtual conference to see what works best for you.  
I CHANGED MY SPINE — and I would love to help you transform your body and reduce pain naturally.   Certified Pilates Teacher in Kailua, and Honolulu, HI since 2008.   I am also a Certified Medical Myotherapist™, and a Certified Graston Technique® Specialist.
Proud to bring you "Lahela's SPINE CLASS,"  "Lahela's PILATES and BODYWORK;" "Lahela's SCOLIOSIS class," and more. Please join me on Instagram and Facebook!
BOOK ME NOW!
Aloha! I love helping people move and feel "better." I have been a Pilates teacher since 2007; a Licensed Massage Therapist since 2001 (MAT#6286, NCBTMB#307766-00);
Certified Medical Myotherapist™, and Certified Graston Technique® Specialist, with advanced training.
Feeling an Achy Back -- Knee -- Hip -- Shoulder -- Elbow -- Hand -- Foot?
Want to improve your athletic performance and reduce injury?
"Yes, Change IS Possible!"
PILATES FOR PAIN & SCOLIOSIS
For years, Pilates has been embraced by healthcare professionals to:
-- Reduce pain. Did you know? Back pain involves more than your "back"!
-- Reduce chance of injury, especially in sports;
-- Promote a healthy spine. Pilates changed my Scoliosis! Ask me how!
-- I love teaming up with your Massage Therapist, Physical Therapist, and Physician, especially if you have Scoliosis (with a referral, please).
-- I am also a Certified Medical Myotherapist™, and a Certified Graston Technique® Specialist. "Graston" worked so well on my own Plantar Fasciitis (done by my Chiropractor), that I was "all in."
--I can improve this chronic ache, and address the source? "Yes, Change IS Possible!"
BOOK NOW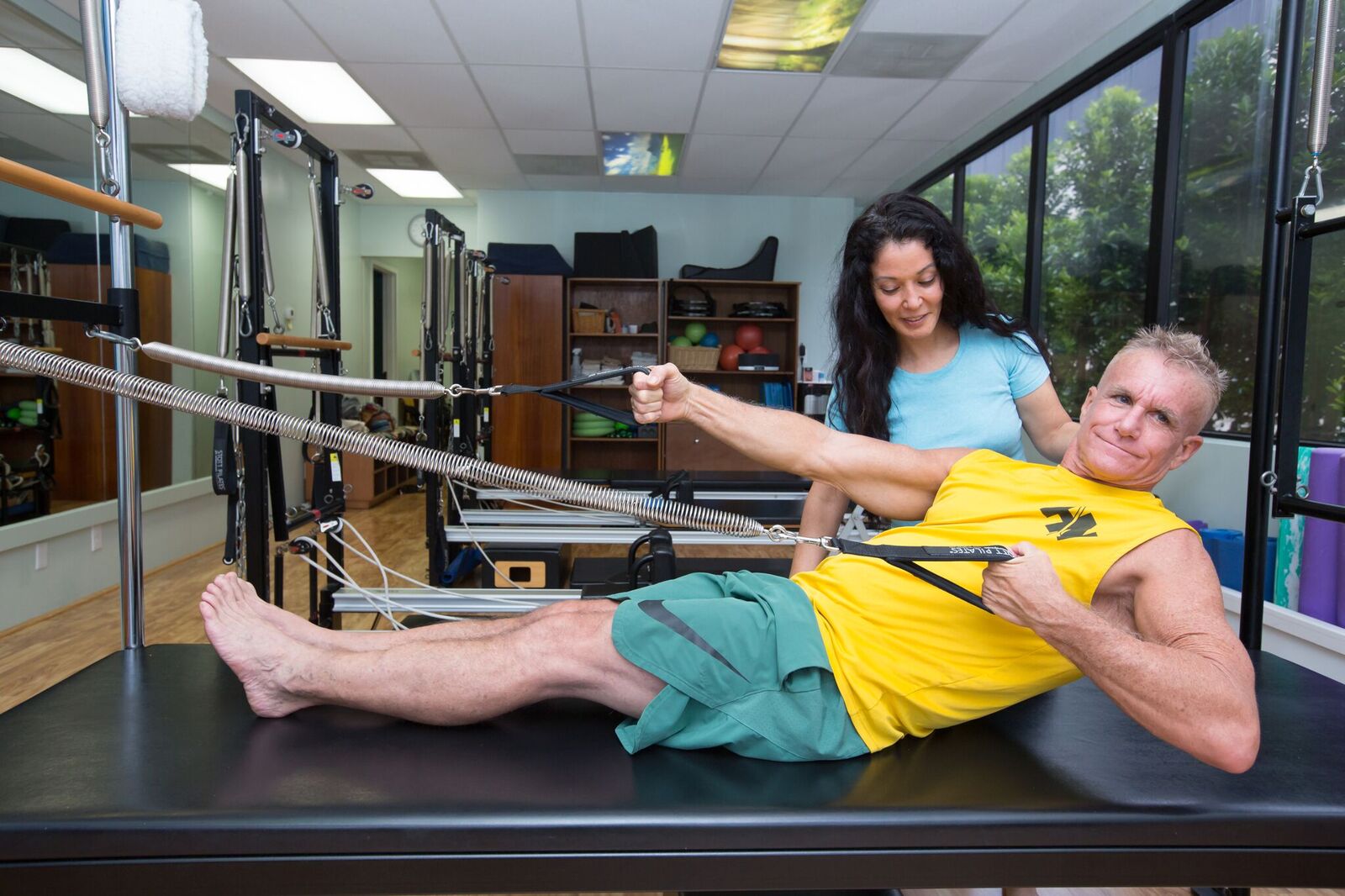 PILATES FOR ATHLETES
Pilates has been embraced by athletes of all stripes for:
-- Reducing the frequency and severity of injury;
-- Helping you stay conditioned if you're sidelined from your sport;
-- Improving performance through increased strength, flexibility, agility, and muscle balance.
I'm also a Certified Medical Myotherapist, and a Certified Graston Technique® Specialist. These techniques provide such great tools for reducing and preventing injury. I can improve my performance, my gait, my flexibility and recovery time? "Yes, Change IS Possible!"
BOOK NOW
PILATES FOR SENIORS
Falling can cause injury no matter what age we are, but we are more susceptible to debilitating injury as we get older. And in order to stay as self-sufficient as possible, we need to work on strength, balance, agility, and more. I love showing people how to do just that. No matter the age, "Yes, Change IS Possible."
BOOK NOW
BETTER BREATHING WILL MAKE YOU:
Get rid of tension in your neck, shoulders, jaw, and the rest of your body

Make you more flexible.

Improve your Spine.

Leave you more calm and focused.
BETTER POSTURE CENTERED IN GRAVITY WILL:

Help you to prevent falling

Reduce wear and tear on your joints, discs, muscles, and connective tissues

Improve your athletic performance

Vastly improve your flexibility and agility

Reduce pain and injury
LEARN QUICK AND EASY EXERCISES TO:
Reduce tension in your neck, shoulders, back, hips, legs, etc.

Improve your Feet, so you can feel better standing, walking, running, dancing…

Help you move with a greater sense of ease.

Help you improve the spine, hips, and more.
LEARN HOW TO:
Prevent athletic injuries and extend your shelf life in your sport.

Take care of those chronic aches and pains.

Continue improving after you have completed Physical Therapy.
An Intro Assessment helps you understand more about your body's individual needs based on posture and movement habits.  You will learn basic exercises on the Reformer, how to use it safely, and see how Pilates can meet your unique needs and fitness goals.  I look forward to helping you start!
REGISTER
SCOLIOSIS and Therapeutic-Pilates
Pilates is often used after completing Physical Therapy, to keep improving your strength and range of motion.  It can help old injuries too.   I have gotten referrals from Physicians, Physical Therapists, and Chiropractors!
REGISTER
How does your neck and shoulder feel today?  How about your feet?  Hips and Back?  Often people notice improvement in a few minutes.  I have used these exercises to help spinal cord injury survivors, Seniors, and athletes of all types. 
REGISTER
PILATES CHANGED MY SPINE & GOT RID OF CHRONIC PAIN

I was diagnosed with Scoliosis at age 10 and told by my Doctor that there was "nothing" exercise could do to change that. He was wrong. I experienced chronic pain starting at age 19 -- but it stopped at age 37 when I discovered Pilates and practiced it daily. After 2 years an xray showed substantial improvement, and I would love to help others improve their quality of life.
"I have worked with Lahela for over ten years. We have shared as fellow teachers and educators within the Pilates, Franklin Method®, Massage and other healing methods. I have experienced her ability to listen and her touch. She is intuitive and can guide her clients to self healing through her insights and gentle guidance on the path to health and well being."

Pat Guyton

Pilates, Inc.
"Suddenly I was looser and not stiff at all!
I had a very stiff lower back for a week. My stretching at home wasn't helping but her attention to me in class was wonderful. I couldn't get over how I suddenly I was looser and not stiff at all. Mahalo for your help."

Gail Tamaribuchi
"Pumped up for a great day!
Lahela's enthusiasm and joy for Pilates is infectious. Her inspiration and attention to detail makes every session worthwhile. After an hour with her, you feel enervated and pumped up for a great day!"

Paula Harris
"I was seeing my orthopedic physical therapist for treatment to loosen and relax the muscles in my hips, lower back, knees and ankles. These muscles had become extremely tight as a result of the stressful lifestyle of a caregiver for many years. After several months of treatment, my orthopedic physical therapist felt that I was progressing well. She suggested trying a class with Lahela Hekekia. I go to classes once a week and in addition to that, I do various exercises from her classes during the day. She is very encouraging and makes you feel special. During the class she is watching over the students and she runs between each of us, making corrections to the exercise we are doing or adjusting the springs on our reformers. She makes each person feel important and encourages questions. She is an example of what can be done with determination and proper exercises knowledge. Lahela has given me hope that I WILL stand straight again."

Jo-Ann Kushima
"I've known Lahela Hekekia over three years, as a student in one of her Pilates classes. She has always been attentive, personable & knowledgeable. I've seen her help numerous individuals, always with a smile, & with thoughtful detail to each person's specific needs & issues. She's very professional, always positive & helpful. Our class includes many seniors, some of whom have somewhat outspoken opinions on varying subjects. I particularly appreciate Lahela's diplomatic approach in these interactions. She doesn't get drawn in to political or other discussions that could take away from the business at hand—Pilates. But she definitely takes time to address individual needs, but never at the expense of the broader group. This juggling—of individual and group perspectives—isn't always easy, but Lahela always seamlessly succeeds. Lahela's communications are very clear and her knowledge comprehensive. I wholeheartedly recommend her & look forward to taking other classes from her."

Neil Berg
"Lahela is knowledgeable in Pilates, Franklin Method and massage and uses that knowledge to best meet the needs of her client. She explains what is happening with the body and works at the level that is most beneficial, without injury. She also takes the time to suggest exercises to do at home and other therapies outside of her expertise which she thinks would be helpful. Lahela is very caring and patient, which is much appreciated."

Sheila Knutson
"Lahela Heals With "Aloha Spirit"
Lahela provides care and healing with her "Aloha Spirit" as well as technical training! The breath of life, "Alo" is presence and "ha" is breath. Aloha is a way of living and treating each other with love and respect. Our family thrived through Lahela's introduction of pilates balance and control techniques. Her flexibility, warmth and sincere concern for the individual needs of our family members' health and well being, both physical and emotional were delivered through all aspects of our interactions with Lahela. We are grateful for her enthusiastic care and friendship."

Lori Lloyd
"I have known and taken classes with Lahela for several years. She is always well prepared, friendly and positive"

Sally White
"I've been going to Lahela's Pilates/Balance & Bones class for a couple of years and I can't say enough good things about her teaching technique. She personalizes the classes to fit your needs and explains the benefits of each exercise you do. She has a positive and friendly personality and seems genuinely interested in your well-being. I look forward to her classes."

Janine Tully
"Very friendly and knowledegable!

I have been taking Pilates from Lahela for many years now and she is such a joy to take class from! She is always smiling and has a bubbly sweet personality. She also knows SO much about body mechanics and different techniques to help alleviate the chronic pain I have in my back. She does a great job of explaining things throughout class and makes excellent adjustments making sure you get a safe and thorough work out."

Ashley Wolfe

Very Friendly and Knowledgeable!
"Knowledgeable And Creative!
I've taken a number of group classes taught by Lahela and she has the ability to make each session fun and unique. She is attentive to each student whether beginner or seasoned and offers guidance on proper technique that I can apply to classes with other instructors. Class time flies by!"

Robyn Yim

Knowlegeable and Creative!
"A friend told me of Lahela, how compassionate she is and how she would be able to help me since she has the same ailment I do, scoliosis. Not knowing much about Pilates I was pretty nervous, wondering if this would cause me more pain. Lahela's personality is delightful! She explained every step from breathing to what muscles are being used. She made me laugh and I felt at ease. In these short three months with her I am understanding my body in a new way. Yes, I have told many people about Lahela and pilates. She is a gem!"

Loreen Tabasa

SCOLIOSIS
"I met Lahela while I was on vacation in Hawaii. I wanted to do some pilates, and she was recommended to me. As it turned out, I got way more than just a pilates lesson. She became a professional mentor for me. She is also a massage therapist. (I am a massage therapist and a pilates teacher) So, instantly, I could tell that she really knew her stuff. Lahela is a professional's professional. Everything she does is 110% over the top. She explains things so well. She follows up with detailed emails. She was able to see me twice during my vacation, and then followed up with a phone call when I got back home. I was so impressed! She gave me career advice/ direction that has helped shape my career. I just wish I could see her again and get more training!"

Jena Weber
"My sessions with Lahela have been very beneficial. I have scoliosis and through Pilates, Lahela has helped me focus on how I should move the limbs of my body singularly and then together. She explains how a part of the body should work and then uses muscle memory exercises and visual word images during my sessions. This method works for me as I am a visual person. I live in the San Francisco Bay Area but when I am in Honolulu I always schedule a visit with Lahela. From my first session with her to every visit since, I leave with a better understanding of what I can do to improve and maintain my situation. After working with Lahela, I am more aware of my body positions and try to practice what she has shown me. Lahela is very patient and accommodating as she has taken the time to give me additional instructions to take home. After working with the methods Lahela has given me, I am now more aware of my body's positions and immediately make the needed corrections. She is great!"

May Wong

SCOLIOSIS
"Lahela has been my Balance and Bones, and private Pilates teacher. She has helped me to strengthen my back and pelvis. I suffered from a compression fracture of the the lumbar. Since working with Lahela I have been pain free."

Leatrice Chee

Pain Free
"Lahela has helped my body heal from various health issues. She seems to be intuitive in her approach and is able to simply look at me sometimes and know where my body is sore/achy/hurting and why. She has helped me tremendously and I look forward to continuing my work with her."

Kiran Syed

Amazing
"Lahela is an outstanding instructor. Because she is trained in a variety of therapies (Pilates, Franklin Method, massage) she offers clients an understanding of body structure and mechanics plus the skills to address and help correct so many body-related issues. She can really make a difference."

Leslie Hayashi

Outstanding Instructor
"I have been very fortunate to be the recipient of Ms. Hekekia's skills as a certified Pilates instructor. I am a veteran competitive outrigger canoe paddler, trail runner, weight lifter and cyclist . However, years of repetitive motion in these activities, with a few substantive injuries along the way, has resulted in an anatomical imbalance. Ms. Hekekia not only has analyzed my various imbalances - which contributed to my subtle injuries, her prescriptive repitoir of Pilates movements using equipment such as the Reformer, Cadillac and Stability Chair has taught me how to repair my imbalance via directed movement and the resulting visceral feeling is simply amazing. Immediately after a session my alignment feels extraordinary, and while it is temporal due to decades of movement that is imperfect, I have learned through Ms. Hekekia's direction and teaching how to repair this imperfect alignment I experience."

Curt Cottrell

Strong Endorsement
"A caring, thoughtful and expert Pilates instructor, Lahela Hekekia has been the primary reason I enjoy Pilates classes so much. She pays very close attention to form and posture to the most minute detail, ensuring that we receive only the best experience and outcome to achieve optimum fitness and wellbeing. In just a few short months under Lahela's instruction, I have noticed a marked difference in my body's leanness and flexibility."

Diedre Chase

Commitment to Excellence and Optimum Fitness
"I've known Lahela for many years and from day one meeting her I've received nothing but top notch advise, pain relief ideas, and 110% commitment from Lahela Hekekia. Even if she wasn't now a friend, she would be my pain management technique person!!"

Dina Lam

LahelaFit is the Best!
"Lahela Hekekia has a vast knowledge of many holistic and exercise areas, for example: Pilates, Franklin Method, Balance and Bones, and more! She is a very kins and caring instructor who always attempts to fit the session to the needs of the client at that time. She truly becomes involved with her clients and uses her extensive knowledge to work to their highest good. I would not hesitate to recommend her to anyone."

Kathie Andre

Lahela Hekekia - Special, Caring, and Excellent
"I have been taking Pilates/Balance classes with Lahela for several years now. Since I began I found my strength improve, which is especially important as I am an older person. Lahela has a special way with people of accepting them the way they are and inspiring them to do better and yet asking more of themselves. She also reacts to each person quite individually according to their own specific needs. She is accepting and kind as well as having a great deal of knowledge about how the body functions. She is always giving challenging and new experiences as the class progresses. I recommend her highly as an instructor and guide to a stronger body and a stronger mind."

Theresa Germaine

Strong Body Makes for Stronger Mind
"I only had a few classes with Lahela as I moved away, but really enjoyed her patience and expertise. She is extremely quick at recognizing the movements that will help you the most and I really enjoyed the classes she taught."

Marie-Christine

Patient with Expertise
"As a physician, I was very favorably impressed by Lahela's knowledge of names of specific muscles and her knowledge of how they work, both individually and together. She is articulate and her ability to explain techniques and reasons for the exercises she recommends for problem areas is quite remarkable."

Joan Kagawa

An Expert
"This past month has been my first experience in Pilates. I have always been into the intense cardio/strength training workouts with other trainers, so this has been quite different for me....needless to say, I have not been disappointed...Lahela has been especially helpful and extremely patient in her instruction and direction always following up on correct form and citing "real life" experiences (which I find motivating and useful). If I could take her class everyday, I would surely do so. Keep up the great inspiring work, Lahela!! "

G. Lincoln

Lahela is Great!
ARE YOU READY FOR PILATES AND BODYWORK TO
REJUVENATE

YOU?  JOIN US IN KAILUA, HAWAII!  OUTCALLS AND WORKSHOPS ARE NEGOTIABLE.