"Yes, Change IS Possible!"
I CHANGED MY SPINE — and I'd love to help you transform your body and lose the chronic aches.    I've been teaching Pilates in Kailua, Hawaii since 2007.   I'm also a Certified Medical Myotherapist™, and a Certified Graston Technique® Specialist.
Proud to bring you "Lahela's SPINE CLASS,"  "Lahela's PILATES and BODYWORK;" and "Lahela's Seminars" — now featuring Secrets of Medical Myotherapy™. Join me on Instagram, Twitter, and Facebook!
BOOK ME NOW!
Aloha! I love helping people move and feel "better." I have been a Pilates teacher since 2007; a Licensed Massage Therapist since 2001 (MAT#6286, NCBTMB#307766-00);
Certified Medical Myotherapist™, and Certified Graston Technique® Specialist.
Feeling an Achy Back -- Knee -- Hip -- Shoulder -- Elbow -- Hand -- Foot?
Want to improve your athletic performance and reduce injury?
"Yes, Change IS Possible!"
PILATES FOR PAIN & SCOLIOSIS
For years, Pilates has been embraced by healthcare professionals to:
-- Reduce pain. Did you know? Back pain involves more than your "back"!
-- Reduce chance of injury, especially in sports;
-- Promote a healthy spine. Pilates changed my Scoliosis! Ask me how!
-- I love teaming up with your Massage Therapist, Physical Therapist, and Physician, especially if you have Scoliosis (with a referral, please).
-- I am also a Certified Medical Myotherapist™, and a Certified Graston Technique® Specialist. "Graston" worked so well on my own Plantar Fasciitis (done by my Chiropractor), that I was "all in."
--I can improve this chronic ache, and address the source? "Yes, Change IS Possible!"
BOOK NOW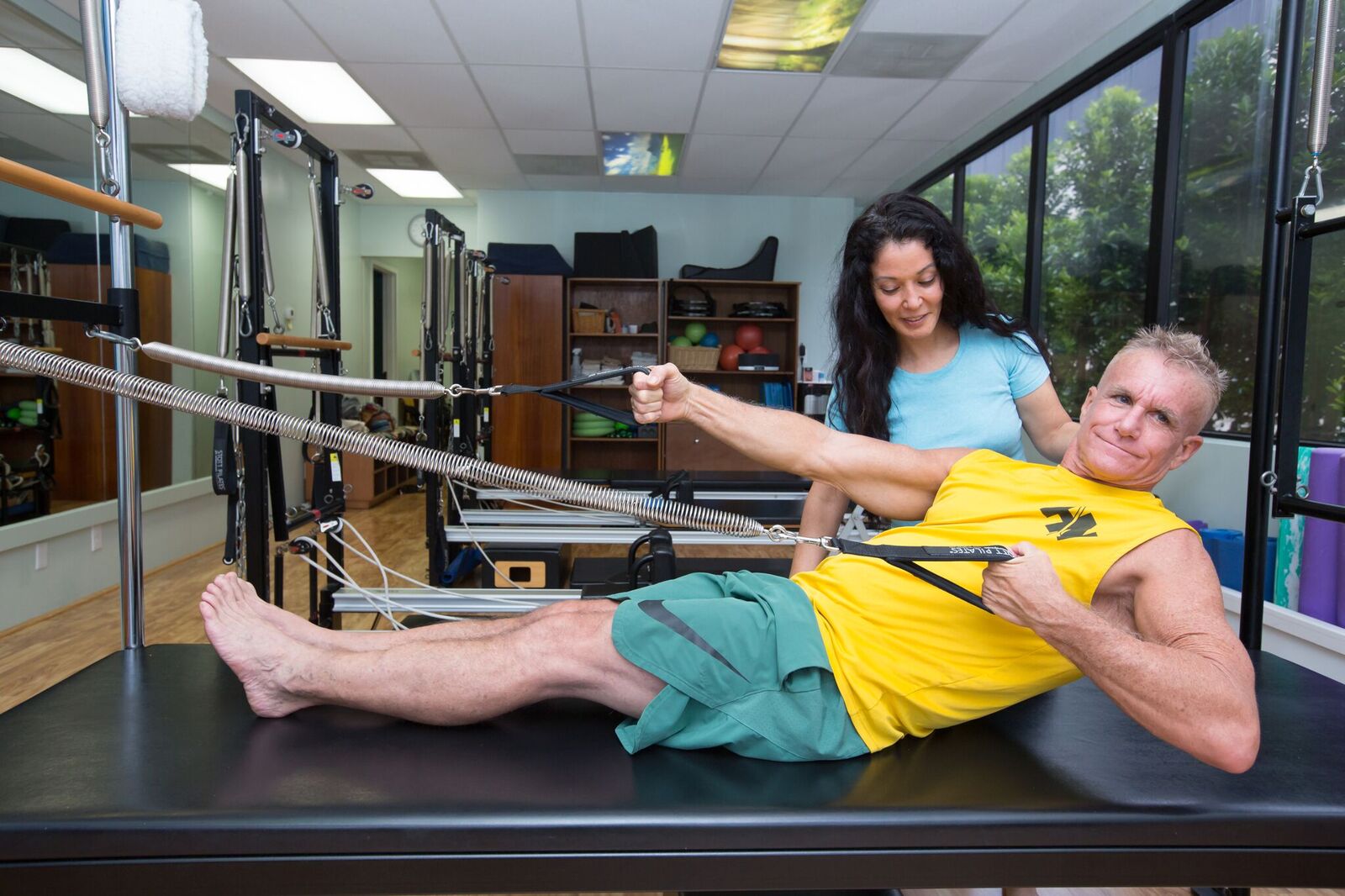 PILATES FOR ATHLETES
Pilates has been embraced by athletes of all stripes for:
-- Reducing the frequency and severity of injury;
-- Helping you stay conditioned if you're sidelined from your sport;
-- Improving performance through increased strength, flexibility, agility, and muscle balance.
I'm also a Certified Medical Myotherapist, and a Certified Graston Technique® Specialist. Graston Technique and Secrets of Medical Myotherapy™ are my personal game-changers, they provide such great tools for reducing and preventing injury. I can improve my performance, my gait, my flexibility and recovery time? "Yes, Change IS Possible!"
BOOK NOW
PILATES FOR SENIORS
Falling can cause injury no matter what age we are, but we are more susceptible to debilitating injury as we get older. And in order to stay as self-sufficient as possible, we need to work on strength, balance, agility, and more. I love showing people how to do just that. No matter the age, "Yes, Change IS Possible."
BOOK NOW
BETTER BREATHING WILL MAKE YOU:
Get rid of tension in your neck, shoulders, jaw, and the rest of your body

Make you more flexible.

Improve your Spine.

Leave you more calm and focused.
BETTER POSTURE CENTERED IN GRAVITY WILL:

Help you to prevent falling

Reduce wear and tear on your joints, discs, muscles, and connective tissues

Improve your athletic performance

Vastly improve your flexibility and agility

Reduce pain and injury
LEARN QUICK AND EASY EXERCISES TO:
Reduce tension in your neck, shoulders, back, hips, legs, etc.

Improve your Feet, so you can feel better standing, walking, running, dancing…

Help you move with a greater sense of ease.

Help you improve the spine, hips, and more.
LEARN HOW TO:
Prevent athletic injuries and extend your shelf life in your sport.

Take care of those chronic aches and pains.

Continue improving after you have completed Physical Therapy.
An Intro Assessment helps you understand more about your body's individual needs based on posture and movement habits.  You will learn basic exercises on the Reformer, how to use it safely, and see how Pilates can meet your unique needs and fitness goals.  I look forward to helping you start!
REGISTER
SCOLIOSIS and Therapeutic-Pilates
Pilates is often used after completing Physical Therapy, to keep improving your strength and range of motion.  It can help old injuries too.   I have gotten referrals from Physicians, Physical Therapists, and Chiropractors!
REGISTER
How does your neck and shoulder feel today?  How about your feet?  Hips and Back?  Often people notice improvement in a few minutes.  I have used these exercises to help spinal cord injury survivors, Seniors, and athletes of all types. 
REGISTER
PILATES CHANGED MY SPINE & GOT RID OF CHRONIC PAIN

I was diagnosed with Scoliosis at age 10 and told by my Doctor that there was "nothing" exercise could do to change that. He was wrong. I experienced chronic pain starting at age 19 -- but it stopped at age 37 when I discovered Pilates and practiced it daily. After 2 years an xray showed substantial improvement, and I would love to help others improve their quality of life.
"I have worked with Lahela for over ten years. We have shared as fellow teachers and educators within the Pilates, Franklin Method, massage and other healing methods. I have experienced her ability to listen and her touch. She is intuitive and can guide her clients to self healing through her insights and gentle guidance on the path to health and well being."

Pat Guyton

Pilates, Inc.
"By far the best team I've ever worked with. They truly understood the look I was going for and completely nailed it! I would highly recommend them as a company, you simply just won't find any better team!"

Aura Brooks

Graphic Designer
"Suddenly I was looser and not stiff at all!
I had a very stiff lower back for a week. My stretching at home wasn't helping but her attention to me in class was wonderful. I couldn't get over how I suddenly I was looser and not stiff at all. Mahalo for your help."

Gail Tamaribuchi
"Pumped up for a great day!
Lahela's enthusiasm and joy for Pilates is infectious. Her inspiration and attention to detail makes every session worthwhile. After an hour with her, you feel enervated and pumped up for a great day!"

Paula Harris
"I was seeing my orthopedic physical therapist for treatment to loosen and relax the muscles in my hips, lower back, knees and ankles. These muscles had become extremely tight as a result of the stressful lifestyle of a caregiver for many years. After several months of treatment, my orthopedic physical therapist felt that I was progressing well. She suggested trying a class with Lahela Hekekia. I go to classes once a week and in addition to that, I do various exercises from her classes during the day. She is very encouraging and makes you feel special. During the class she is watching over the students and she runs between each of us, making corrections to the exercise we are doing or adjusting the springs on our reformers. She makes each person feel important and encourages questions. She is an example of what can be done with determination and proper exercises knowledge. Lahela has given me hope that I WILL stand straight again."

Jo-anne Kushima
"I've known Lahela Hekekia over three years, as a student in one of her Pilates classes. She has always been attentive, personable & knowledgeable. I've seen her help numerous individuals, always with a smile, & with thoughtful detail to each person's specific needs & issues. She's very professional, always positive & helpful. Our class includes many seniors, some of whom have somewhat outspoken opinions on varying subjects. I particularly appreciate Lahela's diplomatic approach in these interactions. She doesn't get drawn in to political or other discussions that could take away from the business at hand—Pilates. But she definitely takes time to address individual needs, but never at the expense of the broader group. This juggling—of individual and group perspectives—isn't always easy, but Lahela always seamlessly succeeds. Lahela's communications are very clear and her knowledge comprehensive. I wholeheartedly recommend her & look forward to taking other classes from her."

Neil Berg
"Lahela is knowledgeable in Pilates, Franklin Method and massage and uses that knowledge to best meet the needs of her client. She explains what is happening with the body and works at the level that is most beneficial, without injury. She also takes the time to suggest exercises to do at home and other therapies outside of her expertise which she thinks would be helpful. Lahela is very caring and patient, which is much appreciated."

Sheila Nutson
ARE YOU READY FOR PILATES AND BODYWORK TO
REJUVENATE

YOU?  JOIN US IN KAILUA, HAWAII!  OUTCALLS AND WORKSHOPS ARE NEGOTIABLE.